For some years, we've seen the evolution of immersive virtual reality (VR) technologies in eldercare. Done well, they are able to create empathy, understanding, and even awe.
One-by-one tech giants are starting to invest heavily in the metaverse - immersive virtual worlds. Seeing huge opportunities for transformation, potentially akin to the internet, which has become a utility.
Summary
To kick off The Best Eldercare series, I was fortunate to connect with Dr. Tanya Petrovich of Dementia Australia. Tanya, her team, and their partners are trailblazers in using virtual reality for eldercare. Over two conversations we explored her motivations, VR use scenarios, impact, lessons learned, and hopes for the future.
These are still early days - and just as with the internet, where people didn't know how impactful it would turn out but there was a recognition that the potential was massive - we expect that VR and broader immersive experiences have an important role to play in improving the quality of eldercare.
In the conversations with Tanya, most of our attention was given to using VR for learning experiences - primarily staff training. The challenge of providing quality education that helps people to internalise person-centred practices cannot be understated. Globally, most training programs fail in this regard. This is certainly one cause of sub-standard care for our parents and grandparents when they are at their most vulnerable.
Recommendations
The impressive work Tanya outlines is a starting point. Right now there are only a handful of organisations with offerings in this specific use scenario, which is a real shame.
In the coming years, there'll need to be significant investment to properly exploit the potential for educating policy-makers, future and current staff in all areas of residential care and home care, as well as informal caregivers the world over.
We recommend greater communication and cooperation between industry organisations, other advocacy bodies, and practitioners to:
help understand the opportunities better;
raise the profile of the topic;
create collaboration networks for R&D, integration into existing programs and adoption; and,
target investment.
Those conversations
Dive in below to a recording and written interview. You'll learn concretely about VR in eldercare, be able to see short demos of experiences and avatars, and should, I hope, be able to begin imagining the possibilities.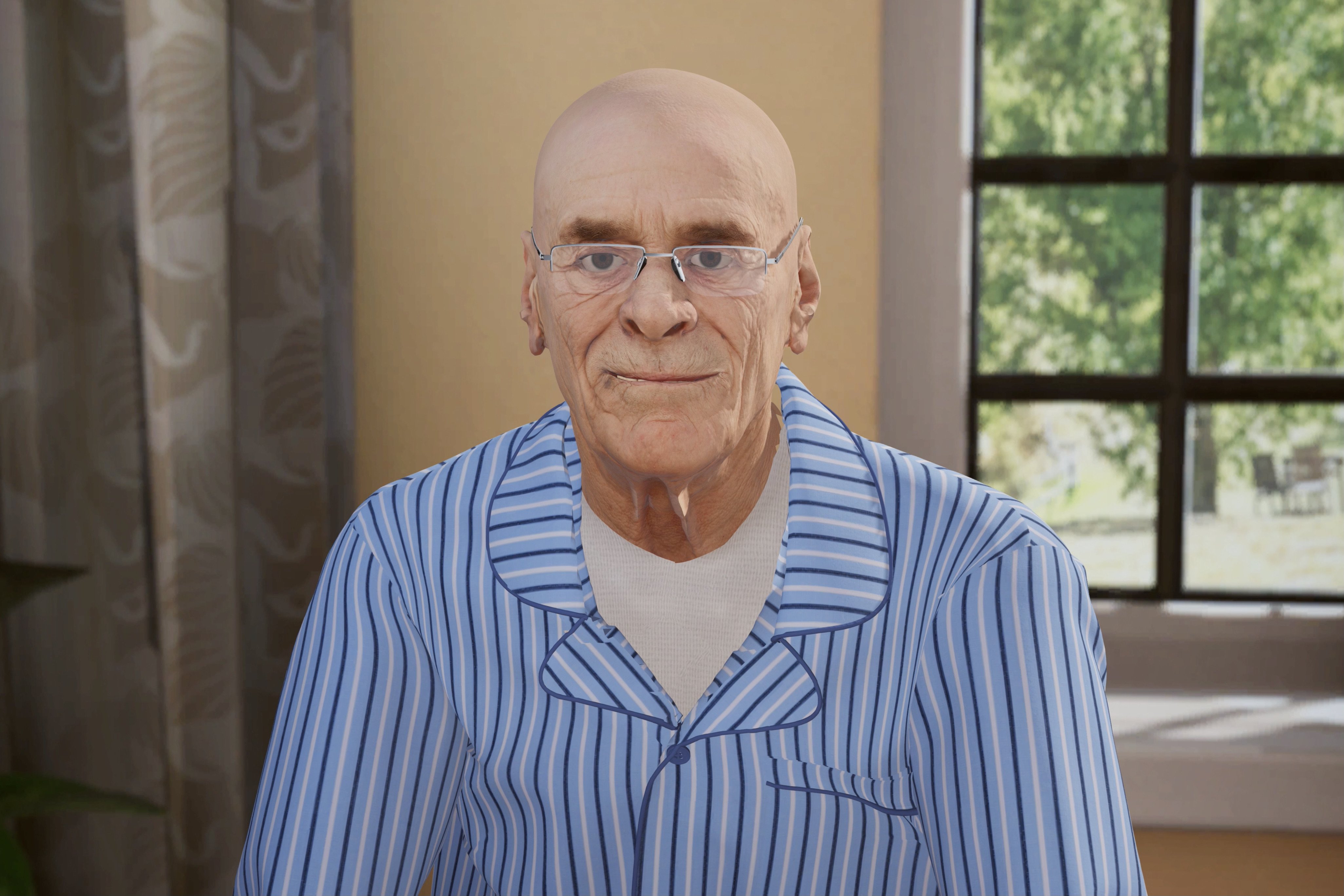 © Copyright - Dementia Australia Ltd.
The past, present, and future of VR in eldercare
For some years, we've seen the evolution of immersive virtual reality (VR) technologies in eldercare. Done well, they are able to create empathy, understanding, and even awe. There are broadly three main use scenarios to date.
Around 2012, VR was introduced as a tool to help people without firsthand experience to understand how disorienting it is to try and function with our senses diminished.
Then came a lesser-known though perhaps most powerful scenario; VR as a training tool to prepare staff for interactions with elders. And more recently we've seen an explosion of suppliers entering the market to provide life-enriching experiences using VR, as elders are able to 'visit' a host of different places.
Dr. Tanya Petrovich's team have been working in the space since 2013 and, as a consumer organisation, brings an objective, measured voice around VR.
Watch the recording
The interview
Tanya, what does the role of Business Innovation Manager at Dementia Australia involve?
"Dementia Australia's purpose is to support and empower the estimated half a million Australians living with dementia and almost 1.6 million people involved in their care. Dementia is the second leading cause of death in Australia yet remains one of the most challenging and misunderstood conditions.

Founded by carers more than 35 years ago, today we are the national peak body for people impacted by dementia in Australia.

We involve people impacted by dementia and their experiences in our activities and decision-making, to make sure we are representative of the diverse range of dementia experiences across Australia. We amplify the voices of people impacted by dementia through advocating and sharing stories to help inform and inspire others. We are here to support people impacted by dementia, and to enable them to live as well as possible.

My role as the Business Innovation Manager is to ensure that the services and products Dementia Australia are delivering positive change to better support people living with dementia and improve their quality of life.

Dementia Australia helps people living with dementia directly through support, counselling, education and indirectly through the education of aged care workers and consulting services aimed at improving the quality of aged care delivered.

To date my role has focused mainly on the professional carers and how we can leverage technology to deliver better learning experiences and outcomes to improve quality of care. I am highly motivated by the power of education and how it can change people's actions and improve lives.

When I hear someone speak about the education they just experienced, it changes their thinking or perspective that truly excites me, and motivates me to see how we can improve our engagement with learners and gain more impact."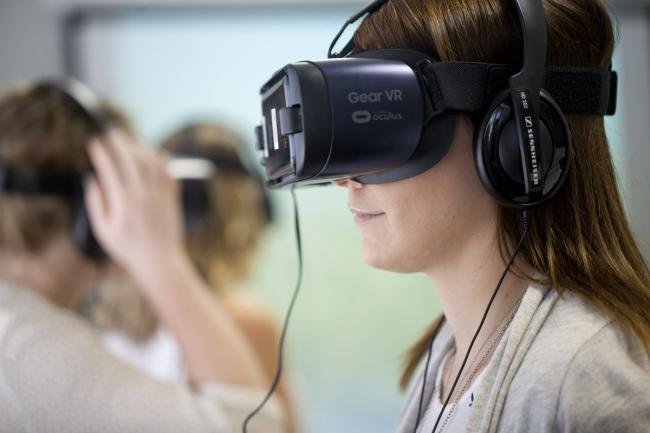 © Copyright - Dementia Australia Ltd.
What sparked your interest in VR and how did you first use it at Dementia Australia?
"I was first introduced to VR in 2012 when a researcher from Swinburne University in Melbourne approached us to join a research project looking at applying virtual environments for dementia care. The project involved creating a virtual environment on a tablet and incorporating games for engaging the person living with dementia. We learnt a lot from the project, most particularly that people with dementia enjoyed being engaged in virtual environments and could easily spend 20 mins or more engaged in activity. I recall the virtual assistance we used that they really enjoyed.

At this stage, we did not use the headset VR experience. In 2012, headsets were still tethered to large computers and were heavy. We worked with people with mid- to late-stage dementia and many of them did not like the bulk of a headset. We decided to stay with tablets for people living with dementia.

But we did explore the use of headsets and VR for the education of aged care workers. I recall a conversation with the game developers who made a comment about game developers being excellent educators, as in developing games they need to educate the user in its use. My first reaction was dismissive, but when I asked them to clarify they pointed out the obvious that had not occurred to me previously. My children were at the time actively playing pokemon, and always wanting the newest game. The way the game player learns the game is not through reading instruction, they learn to play the game through the game itself. As a passionate educator this really struck me, the learner is so absorbed in this virtual world they are learning new skills without realising. If only we could harness this to improve dementia care.

Our first development was the Virtual Dementia Experience (VDE) which we developed as a tool to give people an understanding of what living with dementia might be like. It's one thing to provide education that lists the symptoms of dementia and even hearing the stories of the lived experience from people living with dementia. The learner gains an academic understanding of dementia. But to have the virtual experience of living, as if you had dementia if only for minutes, builds empathy and understanding that are critical to improve person-centred care.

Our team has learnt a lot from working with VR and how to use it as a tool to improve the lives of those living with dementia. The VR experience has been a useful tool to advocate to governments and decision-makers; enabling Dementia Australia to improve policy for people living with dementia. It's helped Board members, executives and others across the health, aged care and disability sectors to gain perspective and influenced positive changes to their governance commitments and to strategic priorities. It's a tool used in education sessions to gain better understanding and build empathy. The impact of the VR tool has been much greater than I ever envisioned."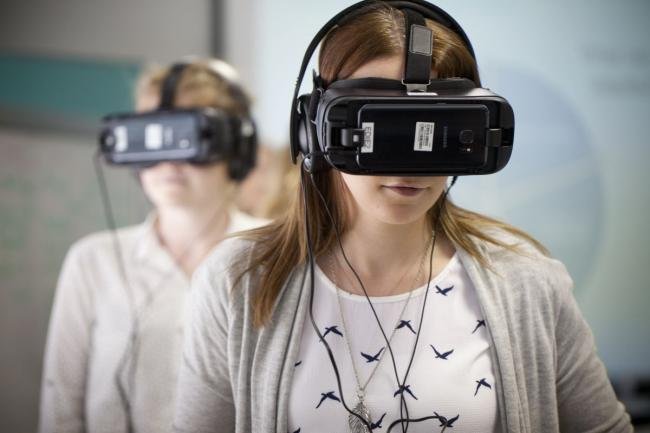 © Copyright - Dementia Australia Ltd.
It's inspiring to learn about these windfalls where you've been able to impact policy-making. You've developed a number of avatars, Ted and Annie, for example, who I understand are used to train professional caregivers. I'd like to learn more about how this works during our live conversation later this month.
Your training workshop Enabling EDIE™ has been used by organisations in quite a few countries. Can you describe what EDIE™ enables and how it's being received? Could you also help me understand why actors and role-play don't achieve the same goal?
"After our success with the VDE which was delivered in a purpose-built room in Melbourne, we decided to create the mobile version using headsets. We released this mobile version in 2016 called Enabling EDIE. EDIE stands for Educational Dementia Immersive Experience, but also Edie the person living with dementia that you will become. Enabling EDIE is a three-hour workshop and the VR experience is used twice in the workshop. The first experience is putting the headset on and you become Edie the person living with dementia is 3:00 am and you are in bed, but you need to find your way to the bathroom. You need to navigate the house with all the difficulties of dementia symptoms in the process. Things like a dark mat on a light-coloured floor appear to become a hole. That is easily said but to experience the phenomenon even in a role play is impossible. to put the headset on and have that experience, the scariness cannot be recreated without VR.

We have in our past used actor and role-play as a tool in our education. I found that the response could be a bit 'hit and miss'. Some people became critical of the role players and this took away from the point of the experience. What I like about EDIE is you are immersed completely in this virtual world, no other stimuli and it's only you and your personal experience of what is happening."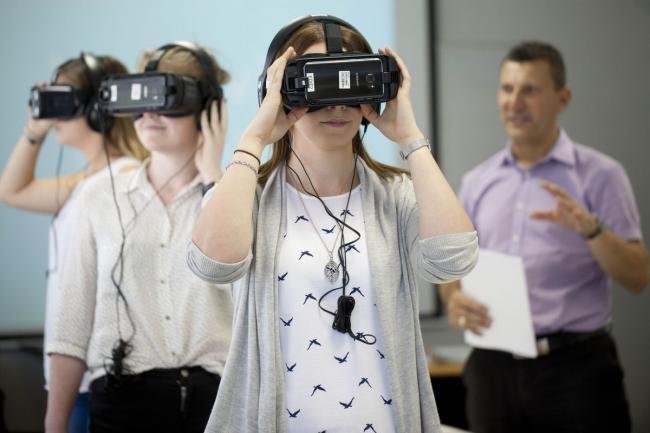 © Copyright - Dementia Australia Ltd.
Thanks so much. You've explained your motivation and begun to describe the benefits of using VR. The analogy with learning while gaming is really astute. What do you see as the limitations of using VR in the scenarios you've described?
"At this stage, the VR is created around a predetermined scenario. What would be exciting is to allow the individual user to have more decision-making points and multiple different outcomes. This is difficult currently with time, cost, and budget restraints. But the technology is improving all the time and the costs are decreasing. In the future, I think VR will become a very powerful training tool that will allow for greater exploration and learning."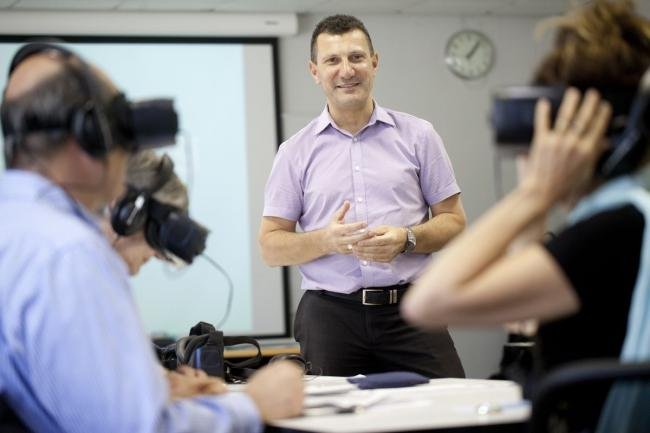 © Copyright - Dementia Australia Ltd.
When I was preparing for this topic, I did a search of VR providers who are looking to engage and enrich elders themselves with immersive experiences of beautiful places, for example. I expected a few and found almost 20 just in the English-speaking world. Have you tried any out? Without mentioning which, what did you think?
"I have had some VR experiences on the market, I think they are great.

For a person living in an aged care facility, I think VR experiences can be uplifting and a very positive experience. However, it does require staff that are knowledgeable with the technology and comfortable with it, firstly. And, secondly they need to know how to introduce this new technology to the user, this requires training. Placing a headset on someone who is a little apprehensive is a delicate procedure.

In aged care people living with dementia are likely to be in the mid- late-stage and likely to have higher anxiety. The VR experience should only be enjoyable and never a forced activity."
About Dr. Tanya Petrovich, Business Innovation Manager, Dementia Australia
Tanya completed studies in the field of Genetics and Neurobiology at the University of Melbourne and Post-Doctoral studies at the Marie Curie Research Institute, UK. She spent many years teaching in the fields of Science, and Health Science. In 2012 Tanya was instrumental in initiating the Dementia Australia (the Alzheimer's Australia Vic) consulting services on the built environment which has now further developed a focus on leadership in dementia care practice. Tanya leads the Learning and Development team applying innovations in technology throughout dementia care education. Their work has resulted in a number of award-winning innovations using immersive technology.
---
About the Author
Rahzeb founded Lifelong Inspiration in 2013 to focus on advancing a person-centred agenda. The team's work covers a range of sectors from education, to eldercare, consumer products, and commercial service industries. In eldercare, their most well-known project is True Doors®, decals that transform facilities into homes, which are now found in sixteen countries from New Zealand to Canada. Rahzeb has been a London city banker, trend analyst, and technology entrepreneur.