Why Lifelong Inspiration builds person centred nursing home websites
A nursing home website should be about the people that live, work, visit and volunteer there.
Yet time and time again we've noticed that while a nursing home is striving towards greater person-centred care, their websites in no way reflect or support this much needed culture change.
The more we learnt about the similarities and differences in long term care around the world, the more ideas we had about how things could be done better, the more we cared, until there seemed no choice, we had to this.
What do we mean by person centred nursing home websites? We mean making people and their preferences the priority, rather than an institution and its voice. Preferences are needs.

The importance of service design
Service design is the organisation of people, process, technology and communication to improve the quality of interactions between an organisation and its stakeholders.
In the case of nursing homes, the stakeholders are the elders that live there, the staff, family, volunteers and other people involved in ensuring the best possible health and wellbeing of elders.
In our view, whenever possible, the elders should be front and centre. A simple first step is to ensure the character of the people that live at a nursing home are showcased on the site.
There are very many examples of nursing home websites where the intentions were great at the beginning. But the website administration was simply not suitable for the people, the staff or volunteers, who were to maintain and improve the site.
So the sites quickly became out-of-date, snapshots of a moment in time. The staff or volunteers might even recognise that their website could be more useful, but are unable to do anything about it.
These sites need to be much easier to maintain, help staff in doing their jobs, support needs to be tailored for a nursing home's requirements, and the sites should evolve as needs evolve.
Then there are families who are considering where their loved ones should live, or planning a visit or simply wanting to stay up-to-date, sometimes at a distance, with life at the nursing home.
The information and features on the site and the communications that can be supported as a result should help families to make good decisions about their loved one whatever stage they are in the journey of interaction with a nursing home.
The more you learn, the more you see, sometimes, the more you can imagine. Some nursing homes have foundations, much can be done to support their goals.
Activities personnel, who are responsible for ensuring elders' days are meaningful and fun, can be helped in their work.
Nursing homes often want more engagement with the wider community, a site, its presence and capability can make life easier in meeting this time-consuming goal.
We wanted to enable all these goals through our service design.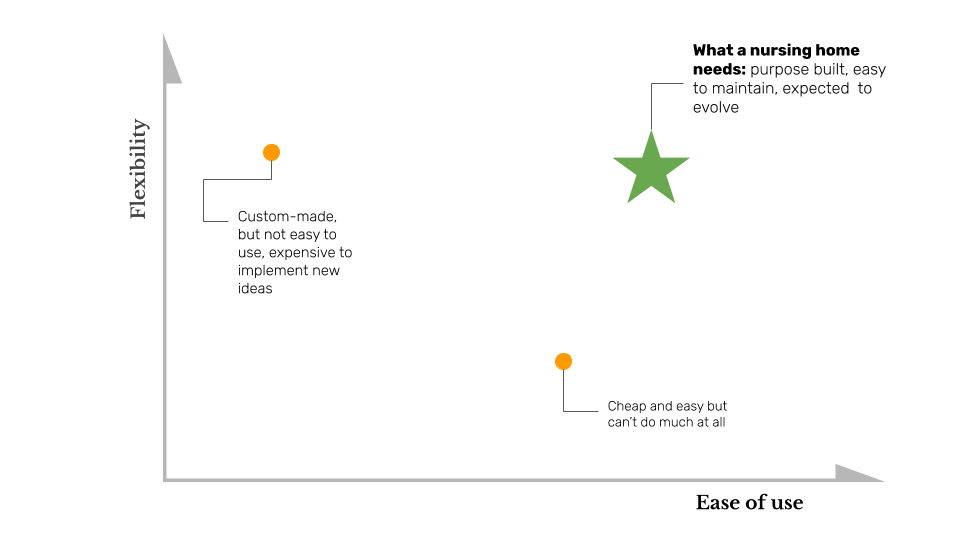 The technology you choose
We noticed that some homes opted for website tools that are pretty easy to use, but not flexible enough to do what an organisation needs (e.g. Wix or site builders provided by hosting companies). While others had invested money or time in custom website technology but these were not easy to maintain or good solutions for evolving needs (e.g. WordPress or tools developed by individual agencies).
We felt nursing homes needed a technology with all the benefits, and without the pitfalls - easy to use and maintain, yet customisable now and in the future.
And so, understanding what we wanted, the technology review began. Almost a year later we decided on the open-source Wagtail CMS, which uses the Python Django Framework